[SIGNED EDITION AVAILABLE] CRASH: The World's Greatest Drum Kits From Appice to Peart to Van Halen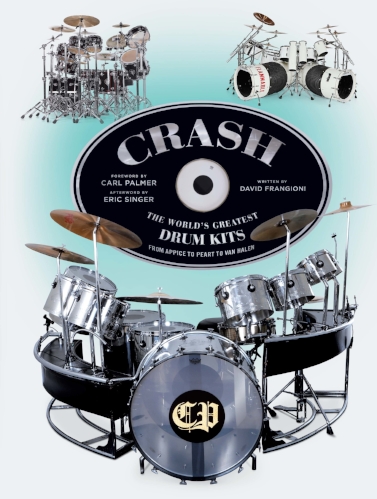 [SIGNED EDITION AVAILABLE] CRASH: The World's Greatest Drum Kits From Appice to Peart to Van Halen
Signed by David Frangioni when ordered on FrangioniMedia.com
CRASH is the definitive Illustrated history of the drum kits of rock 'n' roll legends. From snares to cymbals, drums are taking over the stage in this first-ever collected look into some of the most famous drum kits in the world. Featuring images from live concerts, outdoor festivals, and private recording sessions, this spectacular volume captures the personal connection between artist and instrument. Along with the makes and models, each kit is accompanied by commentary about the history of the kit, its special characteristics, as well as its significance to rock history legend. Including photographs of Neil Peart, Carl Palmer, Ginger Baker, Keith Moon, Ringo Starr, and many more, CRASH is the ultimate photographic guide to the world of rock 'n' roll's most famous drum kits.
About the Author
David Frangioni is a music producer, technologist and musician. He has written for Rolling Stone, Fortune, and Robb Report, and is the recipient of dozens of gold and platinum albums as technical consultant, engineer, and/or programmer. He is the founder of the Frangioni Foundation, a non-profit dedicated to inspiring children through drum healing.

Mark "Weissguy" Weiss' credits include Mötley Crüe's first appearance in a national publication, Oui Magazine in 1982; countless magazine covers and spreads worldwide; and the iconic imagery for many multi-platinum albums, including Bon Jovi's Slippery When Wet and Twisted Sister's Stay Hungry.
sale